Select Minds
With the constant and rapid changes happening in industries, organizations need to adapt quickly to the changes, be flexible to customer demands, and continuously stay ahead of the competition.
Most of organizations are considering modernizing critical applications by migrating to the cloud. Every product that comes to the market today assures speed, efficiency, and cost savings, and so it becomes imperative for businesses to cope up with this to stay ahead in the competition. Introducing the new system to your existing one needs to have practical considerations like moving the critical data from one system to another, looking to improve in-house skills, etc. This white paper Eight tips for mastering migration explains in detail how successfully an organization can migrate to the cloud.
A successful migration is the outcome of a well-defined approach that streamlines and accelerates the cloud migration journey. Various cloud providers are offering open-source, cloud-based, and automated tools and services.
Using solutions like Carbonite allows you to easily migrate physical, virtual, and cloud workloads to and from any environment with minimal risk and near-zero downtime. It helps in protecting personal and business data from common forms of data loss.
This post summarizes the eight tips on mastering the cloud migration process mentioned in the above white paper.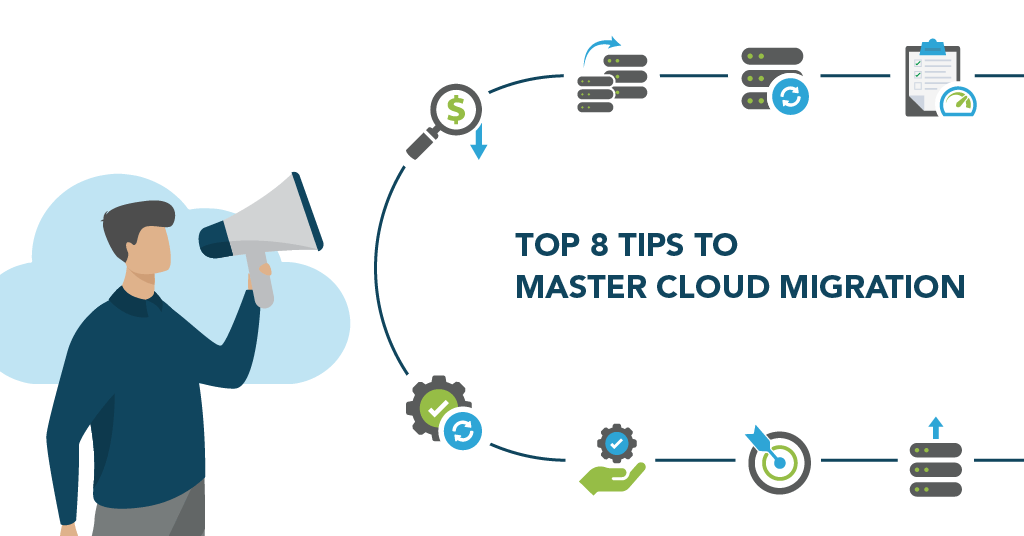 Analyzing Cost of Downtime–
Any kind of downtime leads to significant costs with a far-reaching impact on the business. Evaluating the cost of downtime depends on various factors. Most of businesses fail to do this even after experiencing it. A business needs to consider the cost of the problem before considering how much the fix is going to cost.
Use the right migration tool –
Migration tools used by most of public service providers are often platform-dependent, engineered for one type of migration scenario only. A good migration tool offers flexibility and durability for mission-critical systems and data subject to regulatory compliance.
Outline your migration process –
Planning is a crucial part of migrating to the cloud. Though you have a well-defined plan for the pre-migration process, still you may fail in the migration process due to an improper post-migration plan.
Organize your workloads –
With a huge number of workloads, migration may become difficult. Depending on the size of the project, it is important to organize the workloads into groups based on criticality, difficulty, performance, and more.
Perform automated and continuous testing-
Testing is very important for successful migration as it helps in assessing the success and failure of the operations.
Hire the right service provider –
An expert service provider can help in meeting your migration needs, minimize risks of migration failures, and help in reducing the costs.
Long term vision –
Have a long-term goal while planning for your migration journey. Invest in tools and methodologies that can help in the present as well as future projects.
Utilize the migration to the maximum –
While considering migration for your business, assess your business continuity plans. See to it that the migration provides optimal coverage of new as well as old systems.
These tips can help your organization to avoid common problems and migrate successfully to the cloud. Select Minds cloud experts can offer expert consultation and create a roadmap for all your cloud migration requirements.